Le Cordon Bleu Teaching Gastronomy Workshops June 2018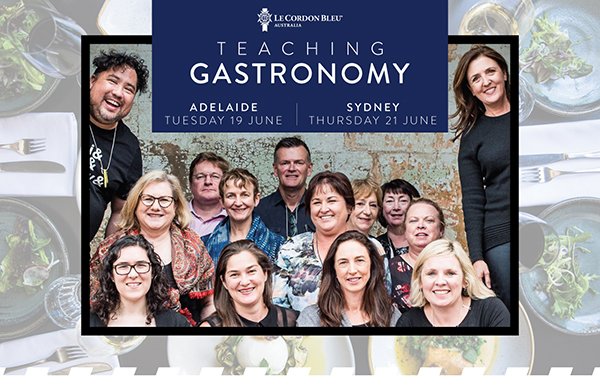 Teaching Gastronomy
This workshop introduces experienced teachers and interested education professionals to examples highlighting new methods of student engagement and to modes of learning linked to gastronomic themes, holistic thinking and community and environmental outcomes.
Each of the 4 speakers will share how they use innovative tools in face to face and virtual contexts, to enhance Gastronomy's multidisciplinary approach and to convey a sense of how gastronomy contributes in specific ways to knowledge, practical applications, and ultimately, to cultural well-being.
Gastronomy affords a timely opportunity to rethink current pedagogy, which while meeting curriculum demands, might also provide avenues to explore and integrate subjects and topics in ways that incorporate economics, business operations, design, philosophy, ethics, politics and multiculturalism. Teaching Gastronomy thus offers teachers and professionals great options for engaging, inspiring and applying new knowledge in new ways. All participants will receive a Certificate of Participation for their attendance.
Cost: $75
Adelaide: Tuesday 19 June 2018
Sydney: Thursday 21st June 2018
Entry Requirements: Only available to teachers and education professionals
Places: Limited to 25 places per l
Brochure: Download PDF
More Information: australia@cordonbleu.edu
Book Now
CRICOS Provider Number: 02380M. RTO ID number: 4959.
SAVE THE DATE
HSC Teacher Seminars
Course Details: This course is designed for teachers implementing the NESA Stage 6 syllabi and will enable participants to develop deeper understanding for the Stage 6 course/s they deliver at their school. The presenters will share their HSC experiences that have maximised engagement and achieved high quality student outcomes.
Date: Monday 29th October
Time: 6-9pm
Venue: PTC Offices 67-73 St Hilliers Road Auburn 2144
Cost: $60.00 for TEA members. Membership forms are available at teansw.com and in the current TEA Magazine.
Registration opens online from: Monday the 20th of August
Further information regarding registration will be distributed to members closer to the date.
TIME
Meeting Room A
Meeting Room B
6.00 PM
        WELCOME AND REGISTRATION
6:20 PM
Textiles and Design
Hospitality Food & Beverage
7:00 PM
Community and Family Studies
Hospitality Kitchen Operations
7:40 PM
BREAK
8:00 PM
Design & Technology
Food Technology
8:40 PM
FINISH
Digital Option
Digital recordings of the event will be made available to those who register with this option. The cost and registration process will be the same for both options. Follow the prompts when registration opens to select which one is best for you. NOTE: Only people who attend in person will be able to have the PD hours accredited with NESA. Teachers who chose the digital option will be able to count these hours in the teacher identified section for accreditation and maintenance purposes.
QTC registered PD is pending and will be advised


Get involved
We are calling for presenters and people interested in assisting with the design of a Food Technology Teacher Day for our members. If you would like to be involved or contribute in some way, please send me an email at president@teansw.com.